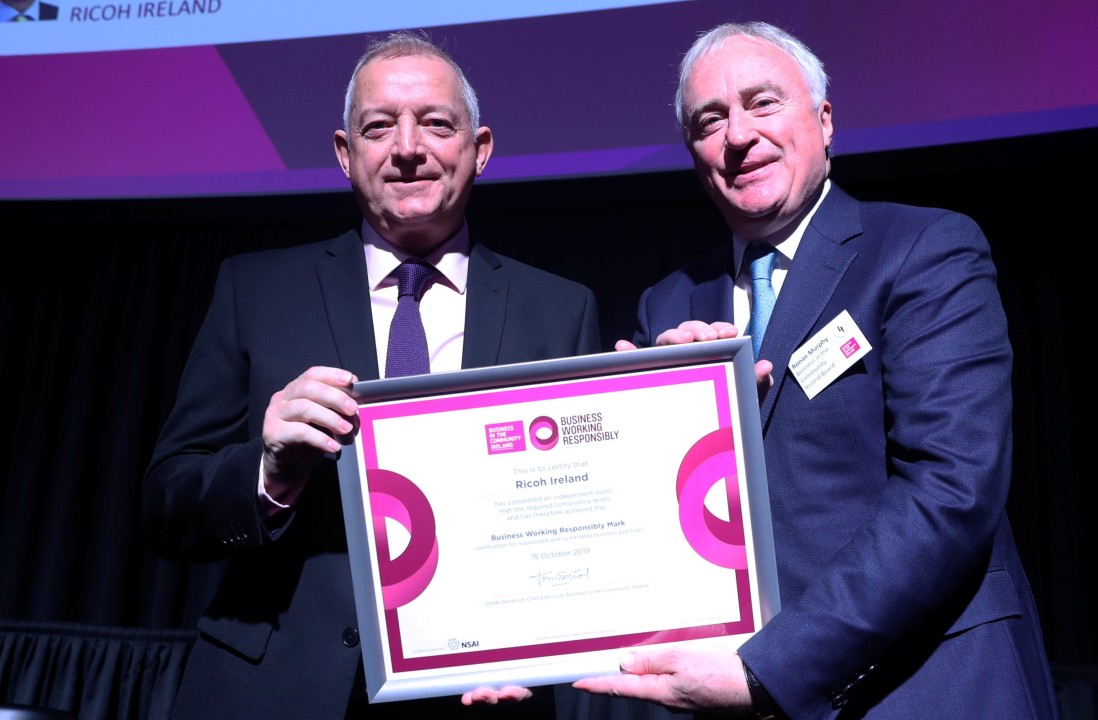 On the mark: Ricoh Ireland recognised with Business Working Responsibly Mark for third time

For the third time, Ricoh Ireland has been awarded the Business Working Responsibly Mark from Business in the Community Ireland, an achievement that recognises companies leading the way for best practices in corporate responsibility and sustainability.

The news was announced earlier this week at the 12th annual CEO Breakfast Forum, hosted at the Mansion House in Dublin and attended by more than 250 business leaders. Alongside 13 of the biggest organisations operating in Ireland today, Ricoh Ireland was recertified to the standard. A total of 34 organisations have been awarded the Business in the Community Ireland accolade, which is based on ISO 26000 and valid for three years.

Seeing so many big brands focusing on the areas of corporate responsibility and sustainability showcases how important it has become for businesses in recent years – not only in terms of company principles and performance, but also employee engagement.

At Ricoh Ireland, we find our engagements with the community around us so rewarding. We have an ongoing partnership with LauraLynn, Ireland's Children's Hospice. As part of this, staff members volunteer for the organisation on a regular basis and we also provide print materials for events and fundraising. We also recently helped to raise vital funds for Alzheimer's Research by participating in Ricoh's company-wide 2019 Imagine. Change. Football Challenge in Spain.

Our commitment to the Low Carbon Pledge – which aims to reduce Scope 1 & 2 greenhouse gas emission intensity by 50% by 2030 – demonstrates our dedication to minimising the environmental impact of our operations by being more energy efficient and procuring renewable energy. This pledge also enables the companies that have signed up to share best practices to pool resources and exchange data to have a greater impact on sustainability.

The Low Carbon Pledge extends beyond Ricoh Ireland, as we also help to improve the energy usage of clients, supply chains and operations of the communities in which we operate. As a company, we are dedicated to adopting sustainable, environmentally-friendly approaches through our print and document management solutions and services.

At Ricoh Ireland, we are extremely proud to be recognised for our efforts in this area and I am incredibly proud of the team for all of their hard work in helping us to get three in a row. A number of our team members contributed to our efforts on this occasion and I would like to personally thank Eimear Hogan, Laura Barry, Anthony Vaughan, Gary Owens and James Deacon for helping us to hit the Business Working Responsibly mark once again.