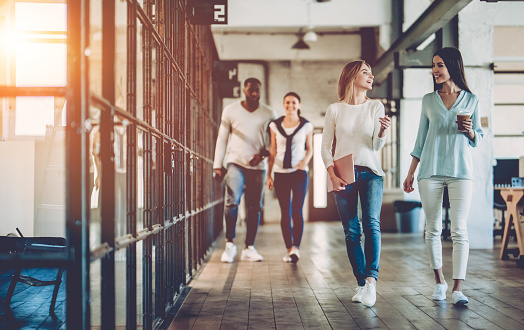 7 Workplace Trends That Will Dominate in 2019

The workplace as people know it is evolving rapidly. Over the last few years, Irish businesses have been placing more of a focus on how they work in order to maximise output, growth and performance. This process and evolution is set to continue over the next 12 months as companies aim to reduce costs, empower employees and remain competitive. Fluidity and agility have become the cornerstones of success and the workplace is no exception. So then, what's in store for it in 2019?

The Workspace will become completely people-centric

Organisations will be led entirely by what their teams want. In 2019, there will be a clear focus on the human element of the office and it will be crucial in terms of talent acquisition and retention. Businesses will have to be mindful of what they offer employees; in others words, both people and productivity will be the priority. Workspaces will be designed to maximise natural light sources and fitted with natural wooden surfaces because this will increase wellbeing and make people calmer, and more proactive. The workplace will become completely people-centric with a larger number of companies implementing flexible working practices and enhancing the social or cultural side of the workplace. In fact, there will soon be a role that combines HR, digital and marketing to focus on this area – a sort of workplace experience or chief productivity officer.

Data-driven offices

The Internet of Things has been transforming homes and offices for years but it is only over the next 12 months that we'll see widespread engagement with data-driven, optimal offices which help business leaders to use only the space they actually need. By reviewing and analysing what is required, organisations will be more productive, efficient and sustainable. Smaller spaces where people can collaborate and solve problems a few times a week will replace rows of desks where employees spent eight hours every day doing routine tasks. Over the next 12 months, it is highly likely that office occupancy rates will decrease as businesses enable mobile workstyles and opt for smaller spaces within the city for staff to come and go when required.

More sophisticated but traditional interactions

The way people interact will become more traditional in nature, as technology becomes more sophisticated. For example, the use of video conferencing systems is already facilitating more face-to-face discussions, albeit via screens, and people are talking to their devices instead of doing everything via the touch of a button. In essence, interaction and collaboration is returning to its roots, but in a more modern and efficient way. Via technology, employees will have a richer interaction, akin to what they would have had when they travelled to meetings, without leaving the workspace.

Nuanced digitisation

Digitisation has been a key trend in recent times, but organisations are starting to realise that total digitisation isn't always the most effective way to work. In other words, this approach will have to be adapted in certain situations and for specific companies. While the digitisation of processes can boost productivity and efficiency for certain businesses, physical documents and letters have been found to work better in others. For instance, doctor's surgeries are reverting back to physical letters to confirm appointments because it results in a higher attendance rate. In other words, 2019 will see a more nuanced approach to the digitisation process, shaped by individual requirements. It will also mean greater demand for commercial and industrial printing services.

Functional Artificial Intelligence

The presence of functional AI will only increase in the workplace next year with an increasing number of tangible tasks being completed by technology rather than humans. As well as streamlining processes, AI and self-service IT will reduce the strain placed on teams and boost productivity. From a virtual communications portal that enables people to check themselves in at the reception desk to an app that schedules meetings and circulates notes, AI will become much more commonplace, practical and visible in 2019. Moreover, technologies such as interactive whiteboards are becoming more advanced with the capability of translating notes written in English into Japanese during a meeting in real-time.

The rebirth of managed services

Companies will have to prioritise their own services if they are serious about continuing to grow and compete. This means outsourcing the so-called 'backroom' processes to those with experience and expertise in these areas, and taking advantage of managed services solutions that are both flexible and scalable. After all, businesses need to ensure that, even during times of change, they don't cut corners in relation to operational tasks such as data security and document archiving. The managed services model will therefore return to the fore, enabling organisations to focus solely on their own business objectives, service delivery and customer base. And it won't be confined to small and medium companies with retail giants already using Ricoh engineers to manage instore lockers.

On-tap resourcing

Downtime can really impact a business but IT teams are now rolling out on-tap resourcing, 24 hours a day, seven days a week. It will become the norm that support, backup and security is available around the clock. This is made possible with virtual teams and advisors, as well as remote hubs based around the world in different time zones. For example, if there is a security breach, Ricoh Ireland can step in and provide support via IT specialists almost immediately. This blend of digital and physical helps to deliver a better experience and as IT becomes more sophisticated and specialised, on-demand IT resources will be essential for managing your IT estate.

While it is most definitely a time of transition and arguably uncertainty when it comes to the workplace, it is also a time of productivity and great potential. The trends that we predict will prevail in 2019 cover a wide range of areas, with some reverting back to traditional and others progressing to the next stage. Either way, 2019 will see the transformation of the notion of the workplace as people know it – one that will enhance processes, enrich space, evolve technology and empower people.